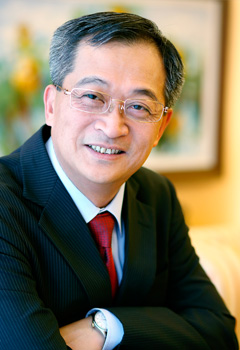 Yantian International Container Terminals
Managing Director Patrick Lam
Throughout global maritime history, ports have been a vital link in the comprehensive chain of national and regional economies. An invaluable driver of economic globalisation, the port industry, now more than ever, serves to spur the economic development of related regions. Fuelled by the awesome growth in exports from Southern China, Yantian International Container Terminals (YICT) has evolved into one of the largest and most advanced container terminals in the world; a preferred port of call for mega-vessels that plays an important role in both the regional economy and international trade.
Customer-focus, Teamwork, and Innovation are our core values. Naturally, we closely monitor breaking trends in the shipping industry and the external market. We studied to proactively meet the requirements of mega-vessels, enhancing port services to increase the value we offer our customers. Since its inception in 1994, YICT has witnessed and weathered the ups and downs of the world economy, winning the recognition and trust of our partners through the geographical advantages of our natural deep-water berths, preferential governmental policies, vision, and service excellence.
As a joint venture between Shenzhen and Hong Kong, YICT epitomises Shenzhen's progress under China's reform and opening-up policies. In past decades, friends from various social circles have extended their support to YICT, and I am proud of how our hard-working team has constantly contributed to the port and Shenzhen. These first two decades have been extraordinary, and I am confident that those to come will build on this success. I believe that this all-important trade gateway linking East and West will continue to develop and thrive under our combined efforts.